The team at Smile for Me is very excited to welcome Professor Gordian  Fulde to our team. Professor Gordian Fulde is amongst the longest serving Directors of Emergency Medicine, holding the position at St Vincent's Hospital Darlinghurst since 1983. During this time, St Vincent's Emergency Department has grown to become one of Australia's largest and busiest, designated as a major Trauma Centre by the New South Wales Department of Health and responsible for an extensive program of Emergency Specialist Training.  He is responsible for all aspects of administration and for a staff of over 200 members.  In addition to this administrative role, he is actively involved in the care of patients who present to the Department. He is also Director at Sydney Hospital Emergency Department. He is a Professor of Emergency Medicine at the University of New South Wales and Notre Dame University.
During his career he has held a range of appointments on regional and national boards. He is a founding Fellow of the Australasian College for Emergency Medicine and at various times has held the offices of Vice President, Secretary and Censor within that College. He was a member of the Senior Court of Examiners for the Australasian College of Emergency Medicine and examines for the Royal Australasian College of Surgeons.  He currently is Stream Director of Critical Care for the South Eastern Sydney Local Health.  A member of the Board of the Thomas Kelly Youth Foundation and Patron of VWCCS – Victims and Witnesses of Crime Court Support.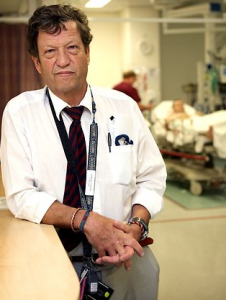 Professor Fulde is an active media spokesperson on alcohol and drugs in the community and the issues and implications that arise from their abuse. He also acts as a senior expert to the State Coroner, Medical Tribunal and Health Care Complaints Commission and is on the editorial board, a contributor to and reviewer of a number of Medical Journals.
Professor Fulde has a Bachelor of Medicine and Surgery from University of Sydney and Specialty Emergency Medicine and Surgery qualifications from the Royal College of Surgeons and Royal College of Physicians, Edinburgh.
Gordian was recognised for his contribution to the community and emergency healthcare with the accolade of Senior Australian of the Year 2016.   For the 2017 Queen's Birthday Honours, he was made an Officer of the Order of Australia for his distinguished service to emergency medicine and to the community as an advocate for a range of public health issues.